The Mallee Wind Farm is a renewable energy project in the Wentworth Shire with a generation capacity of up to 1 gigawatt and featuring a containerised battery energy storage system.
The wind farm is proposed within the NSW South-West Renewable Energy Zone and would deliver clean electricity to the National Electricity Market via EnergyConnect, a proposed interconnector linking the NSW, South Australian and Victorian electricity transmission networks.
The wind farm has the potential to power over 450,000 Australian homes and offset the emission of up to two million tonnes of carbon dioxide annually.
Why this site?
The proposed site has an excellent wind resource and the land where turbines are proposed is relatively flat and cleared.
Wind farm
The wind farm would consist of wind turbine generators, typically spaced 500–1,000 metres apart, and connected via underground cables.
Battery
A containerised battery energy storage system would be built within the wind farm enabling electricity to be stored and then exported as needed.
Local sourcing
We are committed to engaging with local workers and suppliers of goods and services wherever possible and will set targets to measure our achievement of this.
Traditional Owners
Our focus is on engaging the Traditional Owners of the land and businesses to support the project construction and operation.
Benefit sharing
We are committed to supporting the local communities and businesses. A community fund will be established for the life of the project.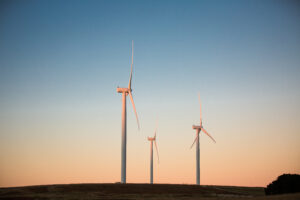 Spark Renewables announces proposed Mallee Wind Farm and launches community consultation
Read More

→
Community Newsletter 1 - August 2022

Map of Investigation Area
Initial identification completed, consultation ongoing
Initial identification completed, consultation ongoing
Step 2
Community Consultation and Preliminary Studies
Step 3
Submission of Development Application and Environmental Impact Statement
Step 5
Financial investment decision
Keeping informed
Ask your questions or sign up to receive project updates either via newsletters, online forums or one-on-one calls. You can also call us 1300 271 419.